March 5th, 2017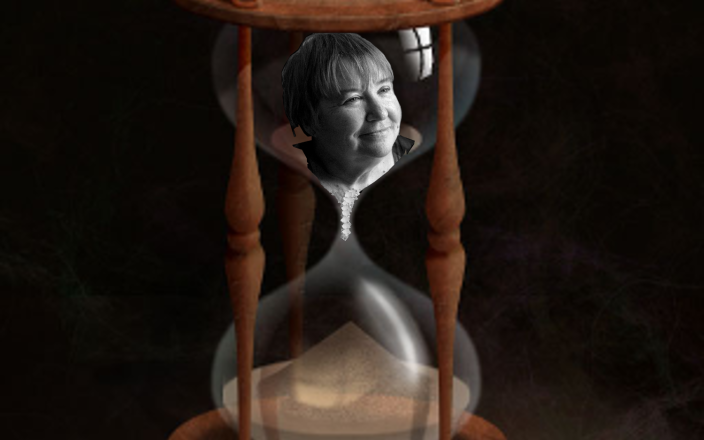 DONATE HERE: https://www.generosity.com/emergencies-fundraising/financial-appeal-for-lynne-stewart-health-crisis

Our beloved People's Champion Lynne Stewart suffered a major stroke, the latest complication from the cancer that has now spread throughout her body and invaded her brain. She is resting comfortably at home, but can only speak sporadically. Her doctor has said she does not have much time left. Ralph and Sister Betty Davis are taking good care of her, as is her doctor-daughter Zenobia Brown.

Ralph welcomes  emails  ( CLICK HERE TO EMAIL RALPH ). Because of this emergency, Betty is launching an online fundraising campaign to assist with  Lynne's on-going personal needs.

Let's all be there for this final journey. Such a heroic fighter – Lynne, we love you!

If you'd like to make a donation by check please make checks out to

"Lynne Stewart Organization" and mail to:

Lynne Stewart Organization,1070 Dean Street ,Brooklyn, NY 11216

June 6th, 2016
Lynne at recent demo at Brooklyn DA's office for Nicholas Payton with father of child murdered by cop.

March 26th, 2016
Lynn and Laurie Arbeiter at 10 year anniversary of Women in Black/We Will Not Be Silent at Whitney museum NYC on March 18, 2016.

January 18th, 2016

Thank you all for running and congratulations to the WBAI members who saw right through the stuff those other folks were slinging.

Lynne lead with 482 first place votes. Their top vote-getter received 189 votes.

King, John, Ralph and Pauline were also elected, while Dacio is first runner-up and Eugene is fourth runner-up.

Janet Coleman was term-limited on December 22, 2015 and our Vajra Kilgour inherited the year remaining in her term as the bylaws require. The ACE-Indy crew are claiming that the staff runner-up from the new election should get Coleman's seat.

January 11th, 2016

Lynne and Ralph sent the message below to the Bureau of Prisons, demanding Leonard Peltier receive immediate medical attention. Send your own message by going here: http://www.bop.gov/inmates/concerns.jsp

WE are concerned about Leonard's medical care
WE understand that he is facing a serious operation

WE URGE BOP to engage a qualified surgeon to do this and that Leonard receive appropriate aftercare in hospital and appropriate rehabilitation and palliative care

We hardly need to remind you that Leonard Peltier is internationally regarded and is a Leader of native Americans and all progressive people here in the US

We Will
Be Watching

December 24th, 2015

Lynne may not be able to join, but wanted to let everyone know about this event:

WHAT: Noise Demo Against the PIC, for the Liberation of PPs + POWs
WHEN: 9:00pm, Thursday, December 31st
WHERE: Metropolitan Correction Center (MCC, the federal prison in downtown Manhattan); Pearl Street, between Cardinal Hayes Place and Park Row (J to Chambers Street or 4/5/6/ to City Hall)
BRING: Noisemakers, air horns, drums, anything that is loud!

On the noisiest night of the year in New York City, come help us remind folks locked up that they are not alone. NYC Anarchist Black Cross, in response to an international call for noise demonstrations outside of prisons, is asking folks to join us outside of the Metropolitan Correctional Center (MCC) in lower Manhattan. Come, not to appeal to authority, speak truth to power, or any other contrivance, but rather to stand arm in arm with comrades and show direct solidarity to those on the other side of the wall.

The state, writ large, is targeting anarchists all across the United States and abroad. This will be both protest and celebration. To keep the cold at bay, comrades will again be on hand with hot cocoa to keep the vocal cords nice and warm.

December 14th, 2015
The Campaign To Bring Mumia Home
Dec 9th, 2015
Dear Friends:

We have a rare, one-time opportunity to get Mumia the medical attention he desperately needs. Please join us in and outside of the court in Scranton, PA on Friday, December 18. A bus and caravans are leaving from New York and Philadelphia.

US Federal District Court Judge Robert Mariani will conduct am extensive public hearing on Mumia's medical crisis and he has asked for a testimony from Mumia. Credit for this victory is due in no small part to the public outcry.

Our attorneys and the attorneys of Department of Corrections will present arguments.

Our attorneys will argue that Mumia has the right to immediate life-saving treatment for his chronic and active Hepatitis C.

The other side will insist that treatment be withheld until the final stages of the condition. In other words, until it's too late to save him.

A legal victory in Mumia's case will also be a victory for the other 10,000 PA prisoners afflicted by Hep C who have filed a class action suit.

Bus and caravans will leave from New York on


Fri, December 18 at 5:45AM sharp

To secure a spot and for tickets, please email us immediately with your name and contact info at bringmumiahome@gmail.com

We will be leaving from Local 1199, 310 West 43rd street and will remain in Scranton until the court hearing has ended for the day, probably at 4 or 5 o'clock.

When: Fri, Dec. 18, 2015

Caravan Leaving From NY: 5:45AM

Email us: bringmumiahome@gmail.com

November 20th, 2015

WHAT: Political Prisoner Letter-Writing Dinner
WHEN: 7pm sharp, Tuesday, November 24th, 2015
WHERE: The Base – 1302 Myrtle Avenue Brooklyn, New York 11221 (directions below)
COST: Free
It's supper time again, and we're back at The Base for our every-other-week Political Prisoner Letter Writing Dinner. As anarchists, it should come as no surprise that we don't celebrate Thanksgiving– we'll take your damned day off from work, but not in exchange for commemorating the historic and ongoing genocide of indigenous folks and the 250 million turkeys who are killed each year. While we might be eating the fruits of the fall harvest, don't confuse that with an acceptance of the Thanksgiving myth.

This Tuesday's dinner will focus on indigenous political prisoner Leonard Peltier and we are fortunate to have a guest speaker from NYC Free Peltier.

Leonard Peltier is an American Indian Movement (AIM) warrior. In the 1970s, the United States government continued its legacy of decimating indigenous communities, focusing on those organized and prepared to challenge its authority. Peltier is imprisoned for the 1975 shoot-out between the FBI and AIM in which two federal agents and an indigenous man were killed. Four years after his imprisonment, a Freedom of Information Act (FOIA) request released documents which prove Leonard Peltier's innocence and the FBI's targeting him. And still, Peltier remains imprisoned. For more information and ways to help, visit whoisleonardpeltier.info

We would also like to share that there is a call to raise money for the legal fund of indigenous Political Prisoner Oso Blanco. More info: http://freeosoblanco.blogspot.com/p/oso-blanco-fundraiser.html

If for some insane reason you can't make it out, but still want to support the prisoners, you can write to Leonard at:

Leonard Peltier #89637-132
USP Coleman I
Post Office Box 1033
Coleman, Florida 33521

November 19th, 2015
Help my Prison Daughter  Pat Clarke 29438-004

Shortly after I arrived at Carswell FCI in 2010, I was approached by a Guard, who was highly regarded by the prisoners.  She asked me to help a young woman, Patricia Clarke, who had been in jail 20 years on a life sentence.

I sought out Pat and after she shared her story I was determined to do all I could do to aid her.  I am still determined because what happened to her in this merciless "justice" system cries out.  She is not a "political prisoner" except insofar as being a member of a class—poor and black– that this hammer of oppression targets with deadly accuracy.

I am going to recount for you an abbreviated version of what has happened to her.  As a young teen she left home in Florida because her mother's live-in man friend was sexually abusing her.  She found refuge with her two older brothers, who were dealing drugs.  Out of the frying pan, you say ? Probably but they were good to her and protected her, asking her on one occasion to act as a "mule" for a package from the Bahamas.  This act, her only crime, put her into a far reaching federal drug conspiracy.  Part of that and by far the most significant was the stop and subsequent search of a car driven by a New York man Pat never met or knew about.  In the car was a wrapped gift box and when the Florida state Trooper opened it, there was a bomb that exploded and killed him.

Under current "law" all members of a conspiracy are responsible for all its actions whether they knew about or intended it or not  Pinkerton theory

After her arrest at age 19, Pat Clarke immediately co-operated with the DEA.  Her first undoing came at the hands of a court appointed attorney in Tallahassee.  He told her that the Government had withdrawn the plea offer of ten years and that they would have to go to trial.  That was a lie.  What he didn't tell her was that he was facing imminent disbarment and was desperate for the trial fees her case would give him.  Of course, they lost and he was disbarred the following month and she was sentenced to life in prison based in part on the death of the Trooper.

Her Appeal?  A lawyer came to her in jail claiming to be sent from and paid for by a religious group.  This person was full of enthusiasm and promises but months later Pat heard from the Circuit court that no brief had ever been filed.  They quickly rounded up a public defender who hurriedly put something together.  The written opinion, confirming her  conviction rested on the outmoded Pinkerton theory that no knowledge of consent was necessary to be guilty of the acts of a conspiracy.

I recently found out that Pat was now in Aliceville FCI in a desolate part of Alabama. She still suffers from Sickle Cell anemia with attacks on a too frequent basis. She is in her forties.  Recently she became part of an initiative for herself and 24 other women who are serving life sentences to ask for clemency: http://candoclemency.com

They are endeavoring to get signatures on a petition before November 23. This important web site is: http://wh.gov/iEGyo

Her cry for help was addressed particularly to her church family citing Matthew 25: 35-40 Christ speaking

"…Truly I say to you,as you did it to one of the least of these my brothers/sisters, you did it to me."

Words that resonate not only to the religious but to all of us who are caretakers of and fight for justice !!!

Pat's address Please write and encourage her:

Patricia Clarke
29436 004
FCI Aliceville
PO Box 4000
Aliceville  Al 35442

Pat became my "prison daughter" because she had no-one to turn to.  Let her become your prison daughter or sister or granddaughter.   Fight Injustice !!

Love Struggle

Lynne Stewart

October 29th, 2015
Photo courtesy of Freedom Archives.

October 29th, 2015

From Lynne: An important information below sent by ex Panther, Comrade from Minneapolis and a regular on Ralphs Blog radio show on Tues Nights,  Larry Pinkney. Attention must be paid.



Remembering Hugo "Yogi" Pinell
Following news of Hugo "Yogi" Pinell being killed at New Folsom Prison this past August, Maroon wrote a brief poem paying tribute to the longtime prison activist and social justice hero. If you missed our newsletter two months back, please visit our website for more info on Pinell's remarkable life. Maroon's poem can be read below.

Why Hugo "Yogi" Pinell Will Be Remembered
By Russell Maroon Shoatz
Copyright 2015 © Pampata

Hero
Unbroken
Giant
Outstanding

Young-at-heart
Openhearted
Genuine
Inspired

Powerful
Implacable
New man
Egalitarian
Long-standing
Loving

Exceptionally Well Done!
Maroon's Son Hassan Reflects on a Visit with his Father

The visits are always good when I get to see that smile on my father's face.

The long drive, my forgetting to have exact change for vending machine cards, locker expenses, and other visiting procedural protocols, was just a part of the anxiety I was feeling, as I began to inch closer to the front of the check-in line.  You see, the last time I made the three-hour trek up the highway one Saturday in July, I was turned away with a simple explanation. "Sorry, it's not his visiting block today," the prison guard had uttered, as she stared at what must have been the most bewildered expression I had mustered on my face since high school physics.

Read the rest of Hassan's reflection here.

Save Shakaboona
Kerry Shakaboona Marshall was 17 when he was arrested in 1988. As a result of the "Get Tough on Crime" movement, he was sentenced to life in prison, which is equivalent to DEATH by Incarceration. He is one of 500 youth in the state of Pennsylvania who received mandatory LIFE sentences with total disregard to their mental capacity, education, and any emotional and physical trauma they'd encountered. Let us say NO to this barbaric system beginning with Kerry Shakaboona Marshall!

Since being imprisoned, Shakaboona has matured into a committed and principled advocate for human rights both inside and outside the prison system. He can regularly be heard advocating for the most disadvantaged in his commentaries at Prison Radio. He is also the Co-Editor of The Movement, a magazine published by the Human Rights Coalition, where his written commentaries can be found.

His Life MATTERS!

Fifteen thousand dollars ($15,000) is needed for a re-sentencing defense team of experienced individuals who will advocate zealously for a sentence other than DEATH by Incarceration for Kerry Shakaboona Marshall.

Visit the Indigogo Site to learn more and contribute to our efforts.

"Twenty years ago I met him at the end of the line, in a Super Maximum Security section of Pennsylvania's state prison in Greene County. There he was serving a natural life sentence – imposed on him while he was still a juvenile – because the system of injustice had taken a wayward kid and condemned him to spend the rest of his life within the confines of prisons.

Yet the Shakaboona I met as a man had the makings of a University professor, doctor, or scientist, and by then was never one to waste a single moment in bettering himself and others he could assist.

As an elder who must leave this life in the not-too-distant future, I'm comforted to know that he continued to grow and better himself, and thus my own grandchildren will benefit from the kind of man he has developed himself to be: One of the best humans walking the planet Earth!"

– Russell Maroon Shoatz

As always, we offer you our profound gratitude for your support, and our hope to celebrate greater victories with you in the days to come…

The Shoatz Family and Friends

August 28th, 2015

Lynne says: "High five and Fist bump Congratulations to Bret Grote and the Abolitionist Law Center and Bob Boyle for the hard work and challenge that they have fulfilled so admirably.  We must continue to fight for and protect those still in the belly of the Beast while we struggle to bring them Home !!!

Mumia Abu-Jamal's Legal Team Files for Immediate Treatment & Injunctive Relief
August 25, 2015

Press Release:
Medical Neglect nearly killed Abu-Jamal in March; Now the DOC refuses lifesaving treatment
August 24, 2015: Attorneys for political prisoner Mumia Abu-Jamal filed a motion for preliminary injunction in "Abu-Jamal vs. Kerestes" today with Judge Robert Mariani in the Middle District of Pennsylvania seeking a federal court order to ensure that prison medical staff provide immediate life- saving hepatitis C treatment to Mumia Abu-Jamal. Abu-Jamal is incarcerated at SCI Mahanoy in Frackville PA. Please see today's filings here as well as the first amended complaint here.
Pennsylvania Department of Corrections (DOC) medical staff and DOC counsel have refused Abu-Jamal's demand for treatment and denied letters from his lawyers and independent doctors documenting the critical need for immediate treatment. Medically necessary treatment for hepatitis C consists of new antiviral drugs that have a 95% cure rate, and consists of one pill per day over the course of 12 weeks with minimal side effects.
Blood tests for the hepatitis C viral load done in July at the insistence of Abu-Jamal, his lawyers, and consulting doctors have confirmed that Abu-Jamal has active hepatitis C, which is most likely the underlying cause of his year-long, escalating health crisis.
Mumia Abu-Jamal remains weak and sick in the prison infirmary. He is currently not receiving treatment for a persistent and debilitating skin condition that is itchy and painful. Mr. Abu-Jamal has already suffered two hospitalizations, one a near fatal episode after SCI Mahanoy's medical staff refused to treat or even monitor his dramatic and dangerously excessive blood glucose level, leading to diabetic shock. Every day that medically indicated treatment is denied carries the significant risk of continued and irreversible injury.
Read the rest of this entry »